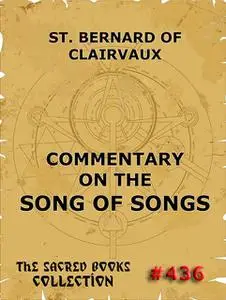 «Commentary on the Song of Songs» by Saint Bernard of Clairvaux
English | EPUB | 0.4 MB
Bernard of Clairvaux (1090 — August 20, 1153) was a French abbot and the primary builder of the reforming Cistercian order. The Song of Songs is a book of the Hebrew Bible-one of the megillot (scrolls)-found in the last section of the Tanakh, known as the Ketuvim (or "Writings"). It is also known as Canticle of Canticles or simply Canticles from the Vulgate title Canticum Canticorum (Latin, "Song of Songs").
The protagonists of Song of Songs are a woman (identified in one verse as "the Shulamite") and a man, and the poem suggests movement from courtship to consummation. For instance, the man proclaims: "As the lily among thorns, so is my love among the daughters." The woman answers: "As the apple tree among the trees of the wood, so is my beloved among the sons. I sat down under his shadow with great delight, and his fruit was sweet to my taste."Additionally, the Song includes a chorus, the "daughters of Jerusalem." (from wikipedia.com)
This book contains 43 beautiful sermons that St. Bernard wrote on this book. He interprets the song of songs in reference to the love between God and the soul. God is deeply in love with us, and wills our love in return. This love between the soul and God, which is the most intimate love possible, is expressed in the analogy of bride and bridegroom, where the intimacy of love is especially expressed.