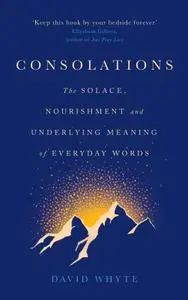 Consolations: The Solace, Nourishment and Underlying Meaning of Everyday Words by David Whyte
English | November 7th, 2019 | ISBN: 1786897636 | 185 pages | EPUB | 1.84 MB
In Consolations David Whyte unpacks aspects of being human that many of us spend our lives trying vainly to avoid - loss, heartbreak, vulnerability, fear - boldly reinterpreting them, fully embracing their complexity, never shying away from paradox in his relentless search for truth. Beginning with 'Alone' and closing with 'Work', each chapter in this life affirming book is a meditation on meaning and context, an invitation to shift and broaden our perspectives on life: pain and joy, honesty and anger, confession and vulnerability, the experience of feeling overwhelmed and the desire to run away from it all.
Through this lens, procrastination may be a necessary ripening; hiding an act of freedom; and shyness something that accompanies the first stage of revelation. Consolations invites readers into a poetic and thoughtful consideration of words whose meaning and interpretation influence the paths we choose and the way we traverse them throughout our lives.
Enjoy
My Blog
. No any convert or low quality!