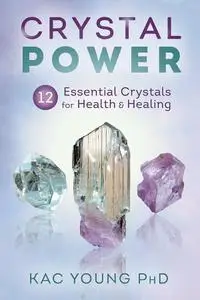 Crystal Power: 12 Essential Crystals for Health & Healing by Kac Young
English | October 8th, 2020 | ISBN: 073876289X | 232 pages | EPUB | 3.03 MB
Heal more deeply and restore your spirit with this in-depth guide to enhancing your crystal practice. Kac Young provides everything you need to know about not only the best healing crystals, but also how to pair them with many other metaphysical tools and techniques. Every stone receives a thorough breakdown of its purpose and its use in combination with chakras, essential oils, astrological signs, goddess energy, and more.
Crystal Power presents numerous ways to use crystals to improve every aspect of your wellness. Explore the power of combining crystals with archetypes to heal emotional wounds. Discover how uniting crystals with the Laws of Karma helps you redesign your life and receive the healing you need. With hands-on practices, easy-to-understand guidance, and even a step-by-step crystal healing session, Kac Young has created an indispensable resource that you will cherish.
Enjoy
My Blog.
No any convert or low quality!