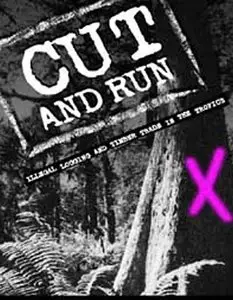 "Cut and Run: Illegal Logging and Timber Trade in the Tropics" by Rob Glastra
International Development Research Centre
IDRС | 1999 | ISBN: 0889368627 9780889368620 9781552500538 | 98 pages | PDF/epub | 1 MB
This book offers readers some valuable insights on how this might be done. It exposes and analyzes illegal practices in the logging industry and timber trade of four tropical countries. The book also provides a global overview of the problem and presents solid conclusions and recommendations for effective future regulation of this precious resource.
Illegal logging and trade in timber is a major cause of forest degradation in the world today. Not only does it threaten biodiversity-rich old growth forests, it also endangers the livelihoods of the traditional communities that are dependent upon them. But controlling this global problem is not a simple matter of enacting new laws and enforcing new regulations –- the rules already exist. If countries are to manage their forest sustainability they must implement existing laws effectively, and they must do so now!
In Brazil, Asian logging companies are furtively establishing themselves in Amazonia. In Paraguay, complicity in illegal activities has reached the highest levels of society. In Ghana, illegal activity by cocoa farmers is devastating forests. And, in Cameroon, fines and fees are seldom imposed and enforcement is grossly inadequate. Of course, these countries are not alone. From Paraguay to Siberia, from Thailand to Canada, our forests are being jeopardized by unscrupulous and illegal logging practices.
Contents
Foreword — David B. Brooks (IDRC)
Preface
Acknowledgments
Chapter 1 The World: Understanding the Illegal Logging and Timber Trade
Deforestation, forest degradation, and the timber industry
Changing global trade patterns
Illegality and unsustainability: general observations and regional summaries
Regional summaries
National and international regulatory mechanisms
Conclusions
Chapter 2 Brazil: Forest Management at Loggerheads
Illegal logging on the government agenda
Illegality and unsustainability
How concession-management plans have failed
The cost structure of logging
Making laws and regulations more feasable
Planning forest land use
Mahogany and CITES
Information tools
Fines and enforcement costs: a vicious circle
East Asian loggers: a new threat
Peru and the logging frontier
The brazil nut tree: the next logging victim?
Chapter 3 Cameroon: Blind Ambition and the Domino Effect
Background
Former (pre-1994) forest legislation in theory and practice
New (1994) forest law
How national newspapers perceive the problem
Types and occurrence of illegal practices
Motivations and perspectives of the principal actors
Some impacts of illegal logging
Recommendations
Chapter 4 Ghana: A History of Mismanagement
Problems
Impacts
Managing illegal logging in Ghana
Local communities and illegal logging
Timber harvesting
Government policies
Corruption
Productivity loss
Chapter 5 Paraguay: The Many Faces of Deforestation
Working with institutions.
The Alto Paraguay case
Illegal log trafficking into Brazil
Recommendations
Chapter 6 The Tropics: Comparing the Countries Studied
Contextual factors: similarities and differences among the four countries
Local and indigenous communities and illegal logging
Specific impacts of illegal logging and timber trade
The importance of local NGOs as watchdogs
Chapter 7 Conclusions and Recommendations: Arresting the Chase for Quick Profits
Conclusions
Recommendations
Appendix 1 Resolution on Illegal Timber Trade, Adopted at the 1996 IUCN World Conservation Congress
Appendix 2 Friends of the Earth International
Appendix 3 Acronyms and Abbreviations
Bibliography
with TOC BookMarkLinks