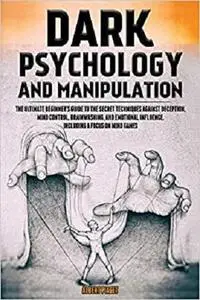 Dark Psychology and Manipulation: The Ultimate Beginner's Guide to the Secret Techniques Against Deception, Mind Control, Brainwashing, and Emotional Influence. Including a Focus on Mind Games by Albert Piaget
English | October 27, 2020 | ISBN: N/A | ASIN: B08M2FZ8KB | 167 pages | EPUB | 0.34 Mb
★★★ Dark Psychology and Manipulation
★★★
Are you one of those individuals who are attracted to the concept of mind control?
Are you interested in finding out how body language can help you in your career?
If your answer to these questions is yes, this is the right book for you!
You see, as humans, we have the power to prey upon the helpless and weak. That's something that has been hardwired into people since we evolved. It stays with us, often buried deep inside. Most keep such thoughts and sentiments to themselves. However, others act on them. It's such individuals you must safeguard yourself from.
In this book,
Dark Psychology and Manipulation,
you will find detailed information on building your emotional intelligence. Allow this book to demonstrate how that awareness can help you locate, prevent, and evade most of the pitfalls holding people back from accomplishing their goals in any aspect of their lives.
Inside, you will find a detailed approach for knowing what emotional intelligence is, ways it can influence you, places where you can turn for support, and the things you can do to develop a plan of action.
Here's a quick peek of what you will find in this guide:
What is dark psychology?
Psychological manipulation techniques
Use of dark psychology today
Reading micro-expressions and body language
Covert emotional manipulation
Mind games
…And much more!
Feel Free to contact me for book requests, informations or feedbacks.
Without You And Your Support We Can't Continue
Thanks For Buying Premium From My Links For Support