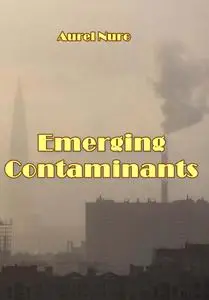 "Emerging Contaminants" ed. by Aurel Nuro
ITexLi | 2021 | ISBN: 1839624191 9781839624193 1839624183 9781839624186 1839624205 9781839624209 | 303 pages | PDF | 11 MB
This volume presents the reader with information on classification, recent studies, and adverse effects on the environment and human health of the main classes of contaminants.
Emerging contaminants are synthetic or natural compounds and microorganisms produced and used by humans that cause adverse ecological and human health effects when they reach the environment. This book covers the classification of contaminants and the instrumental techniques used to quantify them, recent studies on pesticides, antibiotics as an important group of emerging contaminants, and studies of different classes of emerging contaminants such as polybrominated diphenyl ethers (PBDEs), microplastics, and others.
Contents
1. Classification, Potential Routes and Risk of Emerging Pollutants/Contaminant
2. Emerging Compounds in Mexico: Challenges for Their Identification and Elimination in Wastewater
3. Various Methods for Removal, Treatment, and Detection of Emerging Water Contaminants
4. Pesticides and Human Health
5. Impacts of Agricultural Toxicity on Non-Target Organisms in Aquatic Ecosystem
6. Limited Knowledge and Unsafe Practices in Usage of Pesticides and The Associated Toxicity Symptoms among Farmers in Tullo and Finchawa Rural Kebeles, Hawassa City, Sidama Regional State, Southern Ethiopia
7. Analysis of Exogenous Poisoning by Pesticide in the State of Bahia-Brazil during the Period from 2007 to 2017
8. Potential Use of Agro/Food Wastes as Biosorbents in the Removal of Heavy Metals
9. Impact of Emerging Agricultural Contaminants on Global Warming
10. Pharmaceutical Antibiotics at a Significant Level in Nature: From Hospitals, Livestock, and Plants to Soil, Water, and Sea
11. Effects of Antibiotics on Impacted Aquatic Environment Microorganisms
12. Polybrominated Diphenyl Ethers (PBDEs) as Emerging Environmental Pollutants: Advances in Sample Preparation and Detection Techniques
13. Sources, Fate, and Impact of Microplastics in Aquatic Environment
14. Screening and Potential Uses of Contaminated Spent Mushroom (Pleurotus spp.)
15. Determination of Concentration for Some Priority Substances in Paddy Fields of Ergene River, Meriç River, and Yenikarpuzlu Dam, Turkey
16. Reducing Emerging Contaminants Ensuing from Rusting of Marine Steel Installations
17. Chemical Mechanical Planarization-Related to Contaminants: Their Sources and Characteristics
1st true PDF with TOC BookMarkLinks
More :
You find here