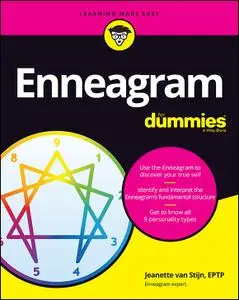 Enneagram For Dummies by
English | February 3rd, 2021 | ISBN: 1119771129 | 384 pages | True EPUB | 3.38 MB
Discover who you are and unlock your potential with the power of the Enneagram
Fans of Myers Briggs, The Five Love Languages, and Everything DiSC are loving the Enneagram test. The Enneagram is a personality typing system that describes patterns in how people interpret the world, manage their emotions, and experience their inner lives. The Enneagram describes nine different personality types and maps each of these types on a nine-pointed diagram to illustrate how each type relates to one another. From bestselling books, popular podcasts, online courses, workshops, even around the dinner table, the Enneagram is having a moment and is likely here to stay.
But what does your number represent? Are you a three, a seven, a nine, or something in between? And how do you use your Enneagram number to better relate to loved ones, friends, and colleagues? Enneagram For Dummies is here to help. Written by Enneagram expert and author Jeanette van Stijn, Enneagram For Dummies offers a step-by-step approach for using the Enneagram as a tool for personal transformation and development.
You'll discover:
• Which Enneagram type best matches your personality
• Advice on overcoming challenges that your personality type often faces
• Interpersonal skills you should develop to succeed with people of other Enneagram personality types
• Ways to use your knowledge of Enneagram types to navigate the twists and turns of the workplace
• How the Enneagram aligns itself with many of the world's spiritual traditions
Whether you're the Helper, the Investigator, the Peacemaker, or another personality type altogether, Enneagram For Dummies shows you how to overcome your inner barriers, recognize your unique gifts and strengths, and truly connect with the world around you.
Enjoy
My Blog.
No any convert or low quality!