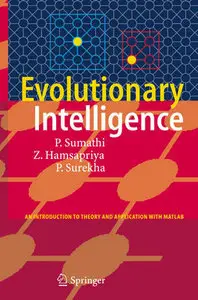 "Evolutionary Intelligence: An Introduction to Theory and Applications with Matlab" by S. Sumathi, T. Hamsapriya, P. Surekha
Springer | 2008 | ISBN: 3540753826 9783540753827 | 600 pages | PDF | 11 MB
This book gives a good introduction to evolutionary computation for those who are first entering the field and are looking for insight into the underlying mechanisms behind them. This book also outlines some ideas on when genetic algorithms and genetic programming should be used, and this is useful since a newcomer to the field may be tempted to view a genetic algorithm as merely a fancy Monte Carlo simulation.
The most difficult part of using a genetic algorithm is how to encode the population, and the authors discuss various ways to do this. Various "exotic" approaches to improve the performance of genetic algorithms are also discussed such as the "messy" genetic algorithms, adaptive genetic algorithm and hybrid genetic algorithm.
Contents
Preface
About the Book
Salient Features
Organization of the Book
About the Authors
Acknowledgement
1 Introduction to Evolutionary Computation
2 Principles of Evolutionary Algorithms
3 Genetic Algorithms with Matlab
4 Genetic Programming Concepts
5 Parallel Genetic Algorithms
6 Applications of Evolutionary Algorithms
7 Applications of Genetic Algorithms
8 Genetic Programming Applications
9 Applications of Parallel Genetic Algorithm
Appendix
A: Glossary
B: Abbreviations
C: Research Projects
D: MATLAB Toolboxes
E: Commercial Software Packages
F: GA Source Codes in 'C' Language
G: EC Class/Code Libraries and Software Kits
Bibliography
with TOC BookMarkLinks