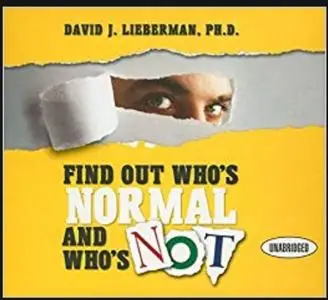 Find Out Who's Normal and Who's Not: Proven Techniques to Quickly Uncover Anyone's Degree of Emotional Stability by David J. Lieberman
Audiobook | Publisher: Gildan Audio | ISBN: 9781469087894 | English | Narrador: Sean Pratt
Genre: eLearning | MP3 128.00 kbps | Length: 5 hs | Total size 269 MB
The Stability Quotient (SQ) is the measure a person's emotional health, or lack therefore. In these ever-chaotic times, you need to protect yourself from those who are a few cards short of a full deck. Unstable people are more likely to try take advantage of you, lie, cheat, abuse, or just plain make your life miserable. Find out if anyone from your date, nanny, coworker, neighbor, potential employee, client, or fiancé-is normal, neurotic, or worse! In person, on line, or over the phone, discover near fool-proof tactics that quickly disclose to you, whether someone in your life is a few fries short of a Happy Meal, or worse and your seemingly normal Dr. Jekyll is really a Mr. Hyde.