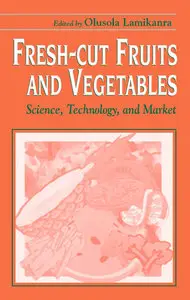 "Fresh-cut Fruits and Vegetables: Science, Technology and Market" ed. by Olusola Lamikanra
CRC Press | 2002 | ISBN: 9781420031874 9781587160301 1587160307 | 453 pages | PDF/djvu | 7/5 MB
This book provides a comprehensive reference source for the emerging fresh-cut fruits and vegetables industry. It focuses on the unique biochemical, physiological, microbiological, and quality changes in fresh-cut processing and storage and on the distinct equipment design, packaging requirements, production economics, and marketing considerations for fresh-cut products.
Based on the extensive research in this area during the past 10 years, this reference is the first to cover the complete spectrum of science, technology, and marketing issues related to this field, including production, processing, physiology, biochemistry, microbiology, safety, engineering, sensory, biotechnology, and economics.
Table of Contents
Chapter 1 Fresh-cut Produce: Tracks and Trends - Edith H. Garrett
Chapter 2 Quality Parameters of Fresh-cut Fruit and Vegetable Products - Adel A. Kader
Chapter 3 Overview of the European Fresh-cut Produce Industry - Patrick Varoquaux and Jérôme Mazollier
Chapter 4 Safety Aspects of Fresh-cut Fruits and Vegetables - William C. Hurst
Chapter 5 Physiology of Fresh-cut Fruits and Vegetables - Peter M. A. Toivonen and Jennifer R. DeEll
Chapter 6 Enzymatic Effects on Flavor and Texture of Fresh-cut Fruits and Vegetables - Olusola Lamikanra
Chapter 7 Microbiology of Fresh-cut Produce - Gillian M. Heard
Chapter 8 Microbial Enzymes Associated with Fresh-cut Produce - Jianchi Chen
Chapter 9 Preservative Treatments for Fresh-cut Fruits and Vegetables - Elisabeth Garcia and Diane M. Barrett
Chapter 10 Application of Packaging and Modified Atmosphere to Fresh-cut Fruits and Vegetables - Tareq Al-Ati and Joseph H. Hotchkiss
Chapter 11 Biotechnology and the Fresh-cut Produce Industry - Jennylynd A. James
Chapter 12 Flavor and Aroma of Fresh-cut Fruits and Vegetables - John C. Beaulieu and Elizabeth A. Baldwin
Chapter 13 Evaluating Sensory Quality of Fresh-cut Fruits and Vegetables - Karen L. Bett
Chapter 14 Future Economic and Marketing Considerations - Greg Pompelli
with TOC BookMarkLinks
ABOUT THE EDITOR
: Olusola Lamikanra, Ph.D., is a Research Chemist and Lead Scientist at the U.S. Department of Agriculture, Agricultural Research Service, Southern Regional Research Center, New Orleans, Louisiana. He received his B.S. degree from the University of Lagos, Nigeria, and his Ph.D. from the University of Leeds, England. He was Professor in the Division of Agricultural Sciences and Director of the Center for Viticultural Science and Small Farm Development at Florida A&M University, Tallahassee. Dr. Lamikanra is the author of more than 100
publications.