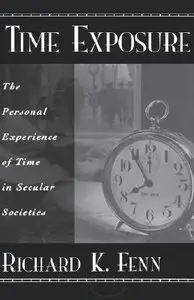 Richard K. Fenn, "Time Exposure: The Personal Experience of Time in Secular Societies"
Publisher: Oxford University Press, USA | 2000-12-14 | ISBN 0195139534 | PDF | 176 pages | 6.52 MB
In his new book, Richard Fenn looks at the way in which we experience time in a secular society. He argues that secularization is virtually synonymous with individualism. Fenn shows that the Church created the idea of individualism through its demysitification of the universe, its insistence on individual self-discipline, and its intensification of individual responsibility for the use of time. Required to take responsibility for his or her own standing in the eyes of God, the individual emerged from the protection of the Church into the full current of time. No longer protected by Providence or connected to Eternity, our lives have become radically temporal and contingent. Fenn explores the modern experience of time, as expressed in such phrases as "wasting time" and "making up for lost time." In particular, he is interested in the idea of waiting, which he believes is a defining characteristic of modern life. He also argues that the secularization of time produced anxiety about death, and shows the various strategies we have created for dealing with this anxiety.
Beautifully written and thoughtfully argued, this volume raises the secularization debate to a new level of depth and sophistication.