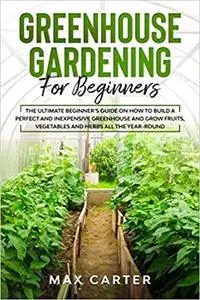 Greenhouse Gardening For Beginners: The Ultimate Beginner's Guide on How To Build a Perfect And Inexpensive Greenhouse and Grow Fruits, Vegetables and Herbs All The Year Round by Max Carter
English | April 19, 2020 | ISBN: N/A | ASIN: B0875ZJP32 | 97 pages | AZW3 | 0.59 Mb
If you want to grow your own organic, 100% natural vegetables, fruits, and herbs and ensure a steady supply of homegrown produce all year round, then keep reading…
During the thick of winter, it's pretty much impossible to grow any living plant. It's cold, it's dark, and for the most part, the sky is overcast and there is a precious little amount of sunshine, which provides the heat and energy needed for plants to grow.
This is where a greenhouse comes in.
A well-built greenhouse gives you the chance to extend your growing season and plant all year long, without having to always wait for the perfect season, and grow plants that normally wouldn't make it a week in the current season or region.
In
Greenhouse Gardening
, you're going to discover a one-stop compendium of all greenhouse best practices, from choosing a greenhouse or constructing one yourself, to setting up lighting, heating and irrigation systems, all without spending a ton of cash.
This definitive guide to greenhouse gardening contains everything you need to set up your own greenhouse full of fresh, organic fruits and vegetables and herbs. It contains instructions on:
Constructing and setting up your own greenhouse from scratch without breaking the bank:
Everything you need to know before constructing your greenhouse
How to choose the perfect location to site your greenhouse
Selecting the best type of foundation, flooring, glazing, and frame for your greenhouse
Learn how to set up heating properly ventilate your greenhouse and regulate humidity to encourage plant growth
Foolproof lighting techniques and irrigation techniques to keep your plants healthy
Surefire ways to avoid wind damage to your greenhouse
Growing healthy, leafy-green and vibrantly-colored plants, veggies and fruits efficiently:
How to effectively schedule planting with a calendar and ensure you have a fresh supply of homegrown produce all year long
Step-by-step instructions to grow tomatoes, peppers, tropical fruits and more in your greenhouse
How to outfit your greenhouse with a hydroponic garden
How to effectively apply fertilizers to your greenhouse plants
Spotting potential problems with your greenhouse plants and troubleshooting them:
A complete guide to maintaining your greenhouse and caring for your plants
How to effectively eliminate greenhouse insects and pests without breaking a sweat
Failsafe ways to prevent losing your precious plants to heat loss
Perfect for beginners and useful for greenhouse pros, this guide will get you started on your way to running your own greenhouse in no time.
Feel Free to contact me for book requests, informations or feedbacks.
Without You And Your Support We Can't Continue
Thanks For Buying Premium From My Links For Support