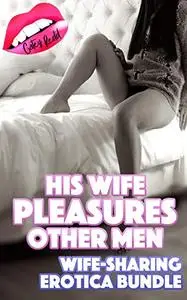 His Wife Pleasures Other Men: Wife-Sharing Erotica Bundle (Hot Wife | Wife Sharing | Menage | Group | Older Men & Younger Women | Older Women & Younger Men) by Catey Redd
English | 2019 | ISBN: N/A | ASIN: B07QQ3Y6L7 | 138 pages | EPUB | 0.31 Mb
HIS WIFE PLEASURES OTHER MEN:
A sizzling hot and dirty collection of stories about men who want nothing more than to share their hot wives with others…and wives who savor the naughty, fulfilling pleasures of being shared.
The hot wife sharing action includes:
• My beautiful wife Kyla, who is 23 years old, is one of the most in-demand erotic photo models around. She flies all over the world to work with some of the best photographers. I'm 42 and I'm her manager. We'd been married for a couple years when I set up a photo shoot for her in Ireland with a famous 72-year-old photographer named Julian, whose work my wife had long admired. She had always wanted to pose nude for him and be in one of his art books. After the very hot photo shoot, the three of us went out for dinner and Julian, who was very handsome and fit for his age, told us how his wife had recently left him, and he seemed very sad. Kyla wanted to do something to make him feel better, and she whispered to me that she wanted to get naughty with Julian, asking me if it was OK. Not only did I realize I really wanted to share my wife with Julian, I wanted to watch them, too. Would watching my wife get very dirty, naughty, and nasty with another man be as hot as I hoped it would be?
• I was a wealthy 58-year-old investment banker when I met Amber, a hot and sexy 22-year-old model. Soon, she became my wife, and I was the happiest man in the world to be married to the most beautiful woman in the world. But soon, things changed. Our love for each other was just as strong, but I just couldn't get it up like it used to. I felt absolutely terrible. A gorgeous woman like Amber deserved to be pleasured fully and completely. One night, I suggested we find a stud to come over and give it to her hard and deep. Would my wife agree with the idea to share her with another man? And what would it be like to actually watch that happening right in front of me?
• My husband Bill and I went for our usual walk around the lake. We're both in our sixties, although I've kept myself in such good shape that most people think I'm only around 50. My husband is a different story. He looks his age, and lately his equipment hasn't been working that well, so the doctor prescribed some exercise so that my husband could get back to giving it to me like I needed it, and I needed it bad! While we were walking, I saw a really hot guy checking me out. His name was Tyler, he was 24, and he was hot for me. I loved it, and so did my husband. Tyler wanted to see more of me, so the three of us went into the woods and Tyler and I got a little naughty. But we both wanted to do a lot more, and my husband wanted to see it. Would we all go back to the house and get really dirty and nasty? Would sharing me with a hot stud like Tyler while he watched get my husband's tool working again?
• When my wife and I bought our first camper and rented a lot down by the lake, little did I know that before long, I'd be sharing my hot wife with other people and enjoying watching…and joining in, too! It began with the sexy woman who moved onto the lot next to ours with her husband, and we got so naughty and hot that it unleashed something amazing inside my wife. Soon she wanted to have two men pleasuring her at the same time. I was more than happy to help out, but would it be as incredible as I hoped it would?
• And More!