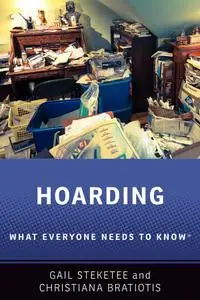 Hoarding: What Everyone Needs to Know (What Everyone Needs to Know) by Gail Steketee, Christiana Bratiotis
English | August 1st, 2020 | ISBN: 0190946385 | 224 pages | EPUB | 1.82 MB
Hoarding disorder is the excessive saving of objects and difficulty parting with them to a point that interferes with one's ability to properly use rooms and furnishings in the home. Hoarding can become dangerous, sometimes resulting in structural problems and fires, or in hazardous sanitary conditions. Studies indicate that around one in every 25 people suffers from hoarding. This means that almost all of us know someone who hoards.
Hoarding: What Everyone Needs to Know demystifies this complex problem, what it looks like and why it may develop, and how it can be treated. With their combined expertise in psychological treatments for hoarding and community interventions, Drs. Steketee and Bratiotis explain how to understand hoarding as a mental illness, describing the disorder in layman's terms and explaining the various facets and manifestations of the behavior. Chapters focus on one or more common questions regarding diagnosis, features, how to assess severity, and treatment. The book will dispel myths and help readers identify hoarding that touches their own lives. As such it will be of great value not only to those who suspect a loved one may be hoarding, but also to first responders, such as firefighters, public health officials, and housing and social service personnel, who will find here an essential resource for use in the field.
Enjoy
My Blog.
No any convert or low quality!