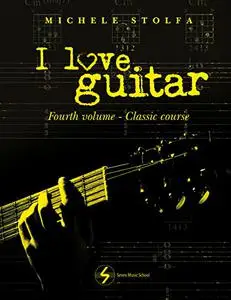 I love guitar: Fourth volume classical guitar course by Michele Stolfa
English | 2022 | ISBN: N/A | ASIN: B09RVJX74Z | 70 pages | EPUB | 4.14 Mb
This volume represents the end of the four books for the course of cycle A. It collects 30 selected studies by authors such as
Mauro Giuliani,
Matteo Carcassi,
Santiago de Murcia,
Francesco from Milan,
J. S. Bach,
Francisco Tarrega,
Miguel Llobet,
Michele Stolfa.
Technical studies relating to scales and arpeggios are also presented, as well as indications of specific techniques. All the pieces are fingered.
Appendices are included with additional passages and compositions for reading.
The book is structured (like all of the series) in 30/40 weekly progressive lessons, designed to take one step at a time, covering an annual cycle of 10 months with one lesson per week. And having the essential material to be done within the same week. Each lesson carried out has a video example of each single study available on the YouTube channel "guitar lessons" by Michele Stolfa. In addition, you can view the free pages about music theory and chords on the blog of the site
www.stolfaguitar.it
The advantage of this book is also represented by having a choice of passages taken from volumes by different authors which, in addition to being expensive on the whole, are often not presented in an order of increasing difficulty. Thing that you can find here with the correct information.
Book written mainly as a compendium for middle school students with musical focus. It follows the ministerial programs that the schools adopt (Europe), but also suitable for both children between the ages of 12 and 13 and for adults who already know the basics of guitar technique, and who want to improve some aspects of it.
Feel Free to contact me for book requests, informations or feedbacks.
Without You And Your Support We Can't Continue
Thanks For Buying Premium From My Links For Support