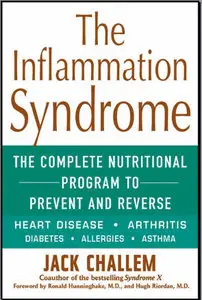 Jack Challem - The Inflammation Syndrome: The Complete Nutritional Program
to Prevent and Reverse Heart Disease, Arthritis, Diabetes, Allergies, and Asthma
Wiley | 2003 | ISBN: 0471202711 | Pages: 272 | PDF | 1.05 MB
Written by the bestselling author of the groundbreaking Syndrome X, the book that helped bring the attention of the public to this major new health crisis, The Inflammation Syndrome is the first major trade book to identify the Inflammation Syndrome for the consumer – and to show how to heal it. Drawing on the cutting-edge research that is being done all over the world, Jack Challem provides a revolutionary approach to healing inflammation – one of the major causes of diseases such as heart disease, arthritis, and diabetes – through an easy-to-follow nutritional program. Special features include recommendations for individualized diet and supplement plans; recipes and menu plans; information on the problems with conventional prescription and over-the-counter anti-inflammatory drugs; and quizzes and tests to assess inflammation levels and risks. Challem reveals many of the hidden dangers in foods that set the stage for inflammation, causing aches, pains, and allergic reactions and increasing the long-term risk of debilitating and life-threatening diseases. He also offers dramatic case histories of patients and up-to-the-minute information on and dosage recommendations for the best natural anti-inflammation supplements, such as healthy fats, Vitamin E, herbs, and many other natural remedies. The Inflammation Syndrome shows just how easy it can be to take charge of one's diet and health – and to feel great.