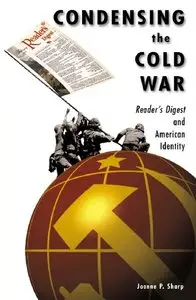 Joanne P. Sharp - Condensing the Cold War: Reader's Digest and American Identity
University of Minnesota Press | 2000 | ISBN: 0816634157 | Pages: 240 | PDF | 2.29 MB
Examines the ways this hugely popular magazine shaped American public opinion about the Cold War.
The Reader's Digest may be the single most important voice in the creation of popular geopolitics in America in the past seventy years. With the second-highest circulation (after TV Guide) of any magazine in the United States, since 1922 it has reflected on the state of world affairs for its readership, explaining both America's and the reader's role and responsibility in the unfolding of these events. Viewed critically, as it is by Joanne Sharp in this book, the magazine offers a unique insight into the workings of American political culture.
Condensing the Cold War shifts the focus of geopolitics and international relations in America from the study of political elites to the imagined geographies of popular culture. By examining the changing ways in which Reader's Digest has explained America and its relation to the world, Sharp exposes the links that the magazine has forged between the individual reader and the destiny of the United States, particularly as this relates to the Soviet Union, the Cold War enemy whose character the Digest is often credited with helping to create. Sharp shows how the Digest's changing representations of the Communist threat to the United States produced a particular image of American-ness for its readers through its description of global events, and how readers were drawn into the unfolding story to become complicit subjects of this political identity.
Not about the Soviet Union per se, or about the historical details of any other threat to the United States, this is a book about America and the changing roles that this central voice of American mass culture envisioned for the country and its citizens.