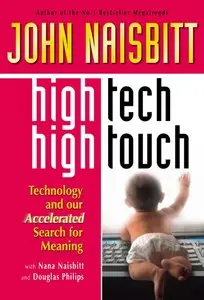 John Naisbitt - High Tech, High Touch: Technology and Our Search for Meaning
Nicholas Brealey Publishing | 2001 | ISBN: 1857882601 | Pages: 288 | PDF | 1.02 MB
A penetrating look at technology in business and contemporary society, taking the reader on a tour of what the author describes as our 'technology immersion' and our accelerated search for meaning. Examines and probes key trends, focusing on the effects of technology in reshaping society. Softcover. DLC: Technological innovations–Social aspects.
The great irony of the high-tech age is that we've become enslaved to devices that were supposed to give us freedom. That's why in High Tech/High Touch, John Naisbitt decided to revisit a chapter from Megatrends, his 1982 bestseller, in which he discussed the split between high tech and what he dubbed "high touch."
We all know what high tech is–these are the technologies that "make us available 24 hours a day, like a convenience store," Naisbitt writes. He says we live in a "technologically intoxicated zone," the symptoms of which include a continual search for quick fixes and lives that are "distanced and distracted." High touch, on the other hand, is the stuff we give up when we're tuned in to the technological world: hope and fear and longing, love and forgiveness, nature and spirituality. To discover where the twain shall meet, Naisbitt takes us on a journey that includes Celebration, Florida, the Disney-created community that was fully wired from the get-go; Martha Stewart, who shows people with complicated lives how to enjoy simple tasks like gardening; extreme sports and adventure travel, in which ordinary people expose themselves to the full fury of nature and gravity. And that's all just the first quarter of the book; Naisbitt goes on to look at how video games desensitize children to violence; the challenges the human genome project presents to religion and spirituality; and, finally, "specimen art," in which artists create disturbing images of life, death and human sexuality.
There's no conclusion, in the traditional sense, only a look at what's happening in our world. But the reader will probably take some sort of action after finishing High Tech/High Touch: switching off the cell phone for a few hours a day; permanently locking away the children's violent Nintendo games; maybe even booking a vacation at the most remote location possible. Anything to get away from the constant buzz of a wired world. –Lou Schuler
Thanks to original uploader!

Do you know only a small part of all books is visible on the AvaxHome Homepage (@ Home)?
To see all of them use
eBooks
category.
If you enjoy my books look at my
…::No mirrors, please::…