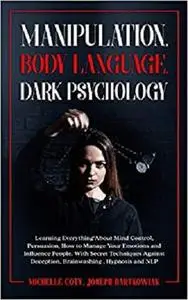 Manipulation, Body Language, Dark Psychology: Learning Everything About Mind Control, Persuasion, How to Manage Your Emotions and Influence People. … Deception, Brainwashing, Hypnosis and NLP by Rabi
English | October 17, 2020 | ISBN: 1801131112 | 242 pages | EPUB | 0.77 Mb
If you want a crash course in dark psychology, then keep reading… Do you think that someone is trying to manipulate you?
Well, we all come across people in our lives who do not have the best intentions. But how can you protect yourself from these people?
The answer is quite simple. You learn the basics of dark psychology and protect yourself from these predatory people. Manipulation is a major part of dark psychology. But if you want to learn how human emotions work and how you can control these emotions to achieve success in all spheres of life, this book is going to be your guide in this journey.
Stop settling for whatever you get when you can go and take what you feel you deserve. In this book, you will get a deep insight into how the human mind functions. You will learn about the techniques of mind control and hypnosis and use them to your benefits. You will also come across an introductory chapter to emotional intelligence or EI. Learning all these skills will help sway people in your favor and do better in both your professional and personal life.
This book is going to be your secret to success because you will learn about several strategies that will help you understand people's motives, analyze them, and also protect yourself from emotional abuse and manipulation. You will be introduced to the unique traits that are present in manipulators. Once you gain this knowledge, identifying them in your surroundings will become much easier. With time, you will learn the game of the manipulator so that you can identify those covert tactics at once. Have a pathological partner, and yet you don't know what to do? Don't worry because this book deals with toxic relationships and how manipulation presents itself in romantic setups as well. Whether you are fed up of your boss manipulating you into doing all his work or a partner who sends you into a cycle of endless guilt, this book right here is your way out.
Here is a summarized version of all the key points which have been mentioned in this book -
◆ The Dark Psychology Triad◆ Tactics used by manipulators to manipulate you◆ Hypnosis and its myths◆ How to make others agree to what you say◆ Introduction to Emotional Intelligence
And more…
Feel Free to contact me for book requests, informations or feedbacks.
Without You And Your Support We Can't Continue
Thanks For Buying Premium From My Links For Support