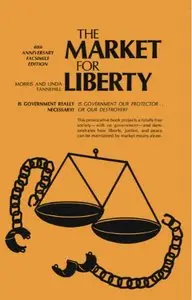 "Market for Liberty" by Morris Tannehill, Linda Tannehill
40th Anniversary Facsimile Edition
Cobden Press/Fox & Wilkes/Laissez Faire Books | 1993/2009 | ISBN: 0981953603 0930073088 9780930073084 | 175 pages | PDF/djvu/epub | 9/5/1 MB
This book is very radical in the true sense of that term: it gets to the root of the problem of government and provides a rethinking of the whole organization of society. They start at the beginning with the idea of the individual and his rights, work their way through exchange and the market, expose government as the great enemy of mankind, and thenand here is the great surprisethey offer a dramatic expansion of market logic into areas of security and defense provision.
Some great books are the product of a lifetime of research, reflection, and labored discipline. But other classics are written in a white heat during the moment of discovery, with prose that shines forth like the sun pouring into the window of a time when a new understanding brings in the world into focus for the first time.
Authors put pen to paper at precisely the right time in their intellectual development, that period rhapsodic freshness when a great truth had been revealed, and they had to share it with the world. Clearly, the authors fell in love with liberty and the free market, and wrote an engaging, book-length sonnet to these ideas.
TABLE OF CONTENTS
Acknowledgments
PART I—The Great Conflict
Chapter 1. If We Don't Know Where We're Going
2. Man and Society
3. The Self-Regulating Market
4. Government—An Unnecessary Evil
PART II—A Laissez-Faire Society
Chapter 5. A Free and Healthy Economy
6. Property—The Great Problem Solver
7. Arbitration of Disputes
8. Protection of Life and Property
9. Dealing With Coercion
10. Rectification of Injustice
11. Warring Defense Agencies and Organized Crime
12. Legislation and Objective Law
13. Foreign Aggression
14. The Abolition of War
PART III—How Do We Get There?
Chapter 15. From Government to Laissez Faire
16. The Force Which Shapes the World
with TOC BookMarkLinks