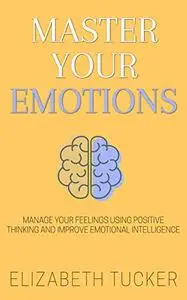 Master Your Emotions: Manage Your Feelings Using Positive Thinking And Improve Emotional Intelligence by Elizabeth Tucker
English | 2020 | ISBN: N/A | ASIN: B08DV71CCB | 50 pages | MOBI | 0.45 Mb
A lot of times, we hold onto feelings that we mistakenly believe we cannot help feeling, and instead of inspiring us, these feelings become carriers of guilt, regret, shame, and pain. They affect our productive energy and prevent us from living a more peaceful and meaningful life. At times, we are unable to understand other people or even ourselves on an emotional plane, which leads to more frustration, disillusionment, and spent energy. Increased emotional perceptiveness and understanding (whether it is our emotions or someone else's) helps us enjoy a better-rounded and satisfying life, free from arguments, miscommunication, conflicts, and destructive psychological effects.
This book covers:
· What Are Emotions?
· Why Is It Important To Master Your Emotions?
· Dealing With Negative Emotions
· The Nature And Value Of Your Emotions
· Building Your Emotional Resilience
· Master It, Control It, Be Happy About It
· Goals In Life…….AND MORE!!!
We may close ourselves to certain emotions, but they still circulate in our mind. Even though we think they are out of our system for good, we still carry these potentially damaging emotions everywhere with us. What have we done here? We have merely pushed these emotions under the carpet instead of dealing with them and eliminating them once and for all to pave the way for new thoughts and emotions. We tend to pretend these emotions are not present when we cannot face our own or other people's emotions. These emotions are avoided or escaped instead of being identified and addressed.
Do not carry damaging feelings with you by shoving it under the carpet temporarily. Much like your drawers, cupboards, and desks, your mind needs frequent cleaning, too. Were you aware that an average person processes at least seventy thousand thoughts each day? How will you have a positive, high priority feeling if you are forever struggling to deal with the weight of negative and unwanted emotions? Emotional intelligence is not just limited to identifying or naming your and other people's feelings, but also regulating these emotions more efficiently to maximize the fulfillment you experience from them. Imagine the damage that can be caused in our relationships if we fail to understand other people's feelings and emotions.
We begin making our emotions and feelings more powerful rather than learning to tame them. We let them distract us or shift our attention away from more constructive pursuits. Instead of controlling our emotions and feelings, we let them control us. Emotional intelligence is about learning to master our emotions. It is about identifying and gaining a deeper understanding of our and other's feelings to use this knowledge optimally. We give more power to our negative inner voice, which completely takes over our positive inner voice. Avoid supporting damaging emotions and let them suffocate to death.