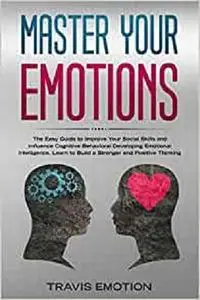 Master Your Emotions: The Easy Guide to Improve Your Social Skills and Influence Cognitive Behavioral Developing Emotional Intelligence. Learn to … Aware by Travis Emotion
English | October 26, 2019 | ISBN: 170166304X | 168 pages | EPUB | 1.71 Mb
Mastering Your Emotions Is an Art That Will Change Your Life…
Emotions can cause intense happiness or extreme pain.
They can dictate your actions and lead you to react in ways you later come to regret.
They are difficult to control and to understand.
Why you don't know the way to react when is the moment right?What is the reason you feel this way? Where do these forceful emotions come from?When should emotions be used for your advantage and when should they be kept under control?
Emotions are a part of ourselves from which we cannot run away or ignore but they are what make us human. Right now, you're going to address an issue that impacts many people. Learning how to conquer the volatile and tumultuous emotions within us all so we no longer react impulsively and irrationally.
Master Your Emotions
is going to illustrate the issues that cause many to struggle to try and maintain calm when they feel challenged. If you're looking for a way to turn your life around, improve your social skills, and develop stronger positive thinking, then this is the resource you need.
There are plenty of reasons why you should learn to master your emotions. Every action has a consequence and so you'll understand exactly why self-regulation matters.
Your emotions are yours alone, which means only you can decide what you're going to do with them.
Will you let them rule you? Or will you start taking back control and become the captain of your ship?
Master Your Emotions
will unravel the techniques and mechanics behind learning to control the dominant emotions that overpower you. To create an awareness about your behavior and the way your emotions impact your life. This book will take you on an in-depth journey to understand the human mind and develop the necessary coping mechanisms, strategies, and techniques so your emotions never get the best of you again.
Through this book:
You'll become responsible for your actions and emotions
You'll understand the role emotions play in your decision-making
You'll discover why we need these emotions in our life
You'll explore what rewiring the mind can do for your emotional and mental wellbeing
You'll detect your emotional changes and master your emotions before they control you
You'll overcome your dark side
You'll develop greater self-awareness and emotional self-control
You'll understand the habits that destroy your happiness and what you can do about it
And much more…
Master Your Emotions explain to you step by step these strategies that you will help to transform with success the ways you handle the relationships and the challenges.