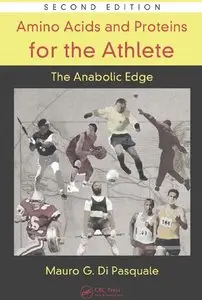 Mauro G. Di Pasquale - Amino Acids and Proteins for the Athlete: The Anabolic Edge, Second Edition
CRC | 2007 | ISBN: 1420043803 | Pages: 456 | PDF | 2.46 MB
Extensively updated with double the information and references, this second editionadvises the athlete on how to use amino acids and proteins to enhance performance. It reveals the actions of protein and amino acid supplements on muscle size and strength and energy metabolism as well as the role of specific amino acid supplements. Written by twelve-time powerlifting champion and physician Mauro G. Di Pasquale, this volume gives athletes the inside edge and helps them achieve maximum performance naturally, without the use of steroids or other dangerous drugs.