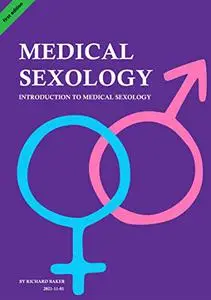 Medical Sexology: Introduction to Medical Sexology by Richard Baker
English | 2021 | ISBN: N/A | ASIN: B09KT7XGRT | 540 pages | PDF | 1.81 Mb
When asked by the Editor to write a Perspective on the teaching of sexual medicine in urology residency programs, I asked myself a simple question as to what was meant by 'Sexual Medicine'. Although I realized I had my own thoughts and perspective, I asked others and discovered a variety of answers. To the urologist, sexual medicine primarily relates to erectile dysfunction either organic or psychologic. To an emergency room physician, it represents an acute problem, such as priapism, and to the gynecologist, it typically relates to sexual disorders in women, whether it is lack of drive or dyspareunia. There are other perspectives as well—the psychologist or marital counselor views sexual medicine as the interaction between a couple including both physical and emotional intimacy. The urologic oncologic surgeon is concerned about the impact of pelvic or retroperitoneal surgery on sexual function and medical and radiation oncologists also recognize the potential impact of their therapeutic modalities as well. Radiologists will tell you that their role in sexual medicine relates to studying pelvic vascular anatomy and dermatologists are concerned about disorders of the skin of the external genitalia, particularly those that are transmitted by sexual contact. Endocrinologists remark about hypogonadism and neurologists address those specific neurologic diseases impacting on male and female sexual function. The interpretations continue whether they are by neurosurgeons, orthopedists or pediatricians. Interestingly, opinions vary whether 'Infertility' belongs under the 'Sexual Medicine' definition.
Feel Free to contact me for book requests, informations or feedbacks.
Without You And Your Support We Can't Continue
Thanks For Buying Premium From My Links For Support