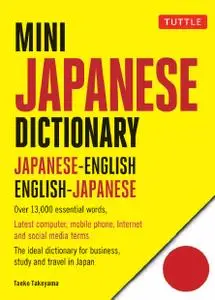 Mini Japanese Dictionary: Japanese-English, English-Japanese (Fully Romanized) (Tuttle Mini Dictionary) by Yuki Shimada
English | November 27th, 2019 | ISBN: 4805314702 | 384 pages | EPUB | 30.17 MB
Mini Japanese Dictionary is the most up-to-date Japanese pocket dictionary available. This dictionary is completely up-to-date with the latest vocabulary for IT, smartphones and social media. It is the perfect dictionary to take with you when you travel to Japan for any reason.
This powerful pocket reference contains the following essential features:
• Bidirectional English-Japanese and Japanese-English sections
• Covering over 13,000 essential words, idioms, and expressions
• Japanese words given in Romanized and native script for easy pronunciation
• Latest computer, Internet, smartphone, and social media terms
Whether you need a travel size dictionary for your trip to Japan or are learning the Japanese language in a formal setting, this mini dictionary is an essential resource.
Enjoy
My Blog
. No any convert or low quality!