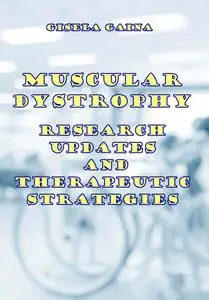 "Muscular Dystrophy:Research Updates and Therapeutic Strategies" ed. by Gisela Gaina
ITexLi | 2020 | ISBN: 1839684755 9781839684753 1839684747 9781839684746 1839684763 9781839684760 | 102 pages | PDF | 15 MB
This volume is for students, researchers, and clinicians interested in muscular dystrophies who want to improve their knowledge of these complex genetic diseases. This book reviews information on current clinical trials for muscular dystrophies and presents a framework for what to consider during the design of these trials.
The book includes information about the genetics of various types of muscular dystrophies as well as explores new and current therapeutic strategies that aim to ameliorate symptoms and improve patients' quality of life and life expectancy.
Contents
1. Duchenne Muscular Dystrophy (DMD) Treatment: Past and Present Perspectives
2. Facioscapulohumeral Muscular Dystrophy: Genetics and Trials
3. miRNAs and Muscle Stem Cells
4. Role of Growth Factors and Apoptosis Proteins in Cognitive Disorder Development in Patients with Duchenne Muscular Dystrophy
5. Mesenchymal Stem Cells for Regenerative Medicine for Duchenne Muscular Dystrophy
6. The Impact of Payer and Reimbursement Authorities Evidence Requirements on Healthcare Solution Design for Muscular Dystrophies
1st true PDF with TOC BookMarkLinks
More :
You find here