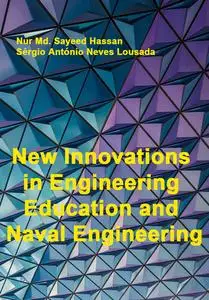 "New Innovations in Engineering Education and Naval Engineering" ed. by Nur Md. Sayeed Hassan
ITExLi | 2020 | ISBN: 1789840384 9781789840384 1789840376 9781789840377 1789855608 9781789855609 | 137 pages | PDF | 19 MB
This book comprises information on different interdependent technical aspects important in the development of a ship project in its entirety. This book intends to provide a wider perspective for the naval engineering field. It presents relevant challenges, as well as new opportunities.
Part One of this book introduces cutting edge research on the key issues of the latest advances in developing a successful engineering curriculum, in designing an innovative learning and teaching method, and in promoting consistent standards in engineering education.
Part Two provides a wider perspective in the area of naval engineering and presents its relevant challenges and new opportunities.
The chapters included in this book cover the related concepts of technical, sustainable, and social innovation that have a substantial influence on the society and the stakeholders.
Contents
1.How to Deal with Quantum Leap Innovations and Free-Fall Situations
2.Service-Learning and Civic Engagement as the Basis for Engineering Design Education
3.Divergent Abduction Model and Its Convergent Interaction in Knowledge Production
4.Personalizing Course Design, Build and Delivery Using PLErify
5.Mechanical Engineering Design: Going over the Analysis-Synthesis Mountain to Seed Creativity
6.Prologue: Exploring the Potential of the Sea
7.Vortex-Induced Vibration of a Marine Riser: Numerical Simulation and Mechanism Understanding
8.Propagation Buckling of Subsea Pipelines and Pipe-in-Pipe Systems
9.The Influence of Water Quality on the Structural Development of Vessels: Smart Dimensioning Process
1st true PDF with TOC BookMarkLinks