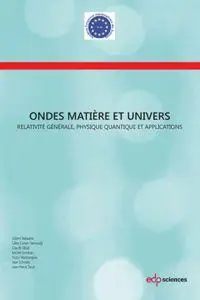 Ondes, matière et Univers: Relativité générale, physique quantique et applications by Académie Européenne Interdisciplinaire des Sciences
Français | PDF | 2018 | 526 Pages | ISBN : N/A | 38 MB
Cet ouvrage, dans la vision pluridisciplinaire de l'Académie, montre les progrès scientifiques réalisés depuis les premiers travaux d'Albert Einstein et de ses contemp
Malgré les difficultés actuelles des tentatives de leur conciliation en vue de bâtir une théorie unifiée, ces deux théories montrent leur grande pertinence dans leurs domaines respectifs de validité. Elles nous offrent une vision du monde et de l'Univers d'une richesse insoupçonnée. Ce livre comporte quatre parties. 1) Relativité, ondes de l'univers. 2) Dualité ondes/corpuscules de la physique quantique. 3) Ondes, matière et quantification. 4) Une nouvelle révolution scientifique à l'horizon ? La même exigence traverse en filigrane tous les travaux ou réflexions présentés : l'exigence d'accroître et d'affiner constamment les techniques d'observations et d'expérimentations, et de construire parallèlement les outils mathématiques nécessaires à l'analyse de leurs résultats ; l'exigence de tester les implications des théories jusqu'aux dernières limites permises par ces possibilités observationnelles et expérimentales ; pour résumer l'exigence de mettre sans cesse à l'épreuve les théories dans leur conformité aux observations et expériences, et, à travers leur interprétation, dans le rapport que nous leur attribuons à la « réalité » de notre Univers.
Please Please :( We Are Here For You And Without You And Your

Support

We Can't Continue
Thanks For Buying Premium From My Links For

Support
i will be very grateful when you

support

me and buy Or Renew Your Premium from my Blog links
i appreciate your

support

Too much as it will help me to post more and moreWithout You And Your

Support

We Can't Continue
Thanks For Buying Premium From My Links For

Support
orains du début du XXe siècle sur les deux grands piliers de la Physique moderne que sont la Relativité générale et la Mécanique quantique. Il a la prétention de rassembler les résultats et les observations scientifiques les plus significatifs de la fin du XXe siècle et de ce début de troisième millénaire.