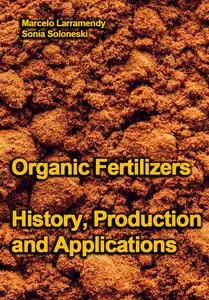 "Organic Fertilizers: History, Production and Applications" ed. by Marcelo Larramendy, Sonia Soloneski
ITExLi | 2019 | ISBN: 1789851483 9781789851489 1789851475 9781789851472 1789850894 9781789850895 | 126 pages | PDF | 8 MB
This book aims to provide an update on research issues related to organic fertilizers, highlighting their importance in sustainable agriculture and the environment. The publication of this book is of great importance for those researchers, scientists, engineers, teachers, graduate students, agricultural agronomists, farmers and crop producers who can use these different investigations to understand the advantages of using organic fertilizers.
Authors aimed to compile information from diverse sources into a single volume and to give some real-life examples, extending the appreciation of organic fertilizers that may stimulate new research ideas and trends in relevant fields.
Contents
1.Opening History: Gaining Perspectives
2.The State of the Soil Organic Matter and Nutrients in the Long-Term Field Experiments with Application of Organic and Mineral Fertilizers in Different Soil-Climate Conditions in the View of Expecting Climate Change
3.Composting
4.Plant Growth Biostimulants from By-Products of Anaerobic Digestion of Organic Substances
5.Compost Tea Quality and Fertility
6.Efficacy of Different Substrates on Vermicompost Production: A Biochemical Analysis
7.Organic Fertilizer Production and Application in Vietnam
1st true PDF with TOC BookMarkLinks