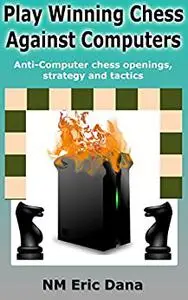 Play winning chess against computers: Anti-computer chess openings, strategy and tactics by National Master Eric Dana
English | February 19, 2015 | ISBN: N/A | ASIN: B00TTD349I | 80 pages | EPUB | 4.61 Mb
Play Winning Chess Against Computers
Chess computers are great. As chess players We get a quality opponent ready to play whenever we are. Whether it's at home on a desktop or out with a laptop, or even on a smartphone. The only problem is the that the things are just so darn hard to beat!
Now with this new book by National Master Eric Dana you will learn the secrets to beating the chess computers.
This is not to say that you will always win, some of these programs are rated higher than the top player in the world. This book cannot promise that, but it will promise to improve your chances and score much better when playing against the machines.
Some chapters include:
The history of computer chess
How computers play chess (What they do well, and what they do poorly)
General tips when playing against computers
Three specific plans to win or draw more often
How to handle online chess players who use computers to cheat
Resources relating to computer chess (including free software & Films)