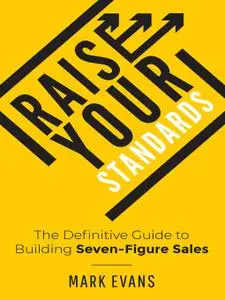 Raise Your Standards: The Definitive Guide to Building Seven-Figure Sales by Mark Evans
English | November 19th, 2019 | ISBN: 1544505337 | 250 pages | EPUB | 1.95 MB
The old way of selling is dead. Long gone are the days of manipulation and corny techniques instead of actually delivering value. Salespeople and leaders who understand this change is happening will be rewarded, while those who don't will fall by the wayside. The sales revolution is happening, and it's happening quicker than anyone realized. The industry needs an approachable and authentic system that blends tactics AND personal development.
Raise Your Standards is the definitive guide to creating high-performing sales teams. Author Mark Evans walks you through each standard in detail: (1) Mindset—the foundation for sales success, (2) Prep Work—prior to selling, make sure everything is in its place, (3) Selling—the actual work of building rapport, asking questions, speaking to answers, and creating a win-win, and (4) Follow Up—because your competition will overlook it.
It's time to raise your standards and your sales to the seven-figure level—and beyond!
Enjoy
My Blog
. No any convert or low quality!