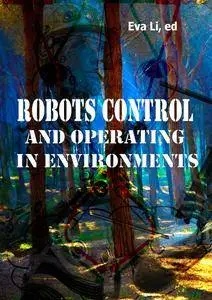 "Robots Control and Operating in Environments" ed. by Eva Li, Efren Gorrostieta Hurtado and Hüseyin Canbolat
ITEvaLi | 2017 | ISBN: 5048197054 9785048197059 | 269 pages | PDF | 85 MB
This book includes a selection of research papers in robot control applications, and presents several tools and mathematical concepts that allow the development and operation of robotic systems.
Robots are used in industry, rescue missions, military operations, and subwater missions.
The description of projects using robotic systems in areas such as vision, navigation, path planning, trajectories, non-holonomic systems, mobile robotics, robot control with very specific structures, as well as artificial intelligence systems is pointed out.
The development of different ideas in control systems that are useful and hopefully enriching for the reader are also presented in this book.
The use in hazardous environments is crucial in terms of occupational safety of workers and the health of rescue and military operations. Second part presents several hazardous environment operations and safe operations of robots interacting with people in the context of occupational health and safety.
Contents
Preface
Part 1. Robot Control
1.1 A Review of Compliant Movement Primitives
1.2 Induced Force Hovering of Spherical Robot by Under-Actuated Control of Dual Rotor
1.3 Adaptive Steering and Trajectory Control of Wheeled Mobile Robots for Autonomous Navigation
1.4 Occupancy Map Construction for Indoor Robot Navigation
1.5 Analysis of a Sorter Cascade Applied to Control a Wheelchair
1.6 Watch Your Step! Terrain Traversability for Robot Control
Part 2. Robots Operating in Environments
2.1 Robots for Humanitarian Demining
2.2 UAV for Landmine Detection Using SDR-Based GPR Technology
2.3 Towards Advanced Robotic Manipulations for Nuclear Decommissioning
2.4 Robot Protection in the Hazardous Environments
2.5 Safety Assessment Strategy for Collaborative Robot Installations
1st true PDF with TOC BookMarkLinks