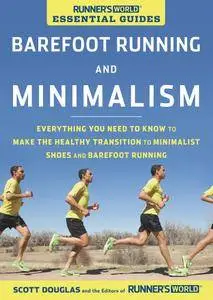 Runner's World Essential Guides: Barefoot Running and Minimalism: Everything You Need to Know to Make the Healthy Transition to Minimalist Shoes and Barefoot Running by Scott Douglas
English | October 20th, 2011 | ASIN: B005UHFFI0, ISBN: 1609614143 | 68 Pages | EPUB | 0.95 MB
The basic rationale for running barefoot or in minimalist models goes something like this: Humans evolved to cover long distances by foot. By introducing a thick layer of cushioning and an elevated heel between the foot and the ground, modern running shoes alter natural running form. But modern running shoes alter form in ways that lead to injury. Therefore, getting back to a more natural running gait by running in little-to-no shoe will lead to improved form, which should lower injury rates.
A key reason to run barefoot or in minimalist shoes is to allow your feet to work more naturally, free from the confines and controls of overly engineered running shoes. Unfortunately, too many runners, eager to run more naturally, have gone too far, too fast, from one extreme to the other. The realities of modern life have weakened our feet, ankles, and lower legs, and our bodies have adapted to the shoes we have worn for most of our lives; if we suddenly start running in little-to-no shoe, our bodies are not prepared for the new stresses.
Runner's World Essential Guides: Barefoot Running and Minimalism provides historical context, thoughts, advice, and tips on making a healthy transition. The foremost authorities on running on the planet show you how to ease into a transition from conventional running shoes to barefoot running or minimalist shoes, starting with some simple at-home tests to see if your feet already have the strength they need to handle little-to-no shoe. You'll learn a step-by-step process for safely moving away from doing all your running in big, bulky shoes, including guidelines on how to introduce barefoot running into your regimen.
Whether you want to learn more about the barefoot craze that's swept the nation or you want to introduce barefoot running into your training plan, this indispensable guide contains everything you need to get started!