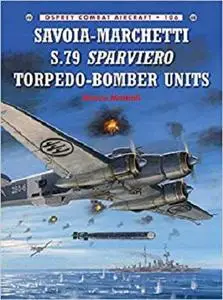 Savoia-Marchetti S.79 Sparviero Torpedo-Bomber Units (Combat Aircraft) by Marco Mattioli
ISBN: 1782008071 | 96 pages | PDF | October 21, 2014 | English | 4.62 Mb
Italy's Sparviero (Sparrowhawk) saw combat with the Regia Aeronautica in France, Yugoslavia, Greece, North Africa, East Africa and in the Mediterranean versus the Royal Navy. Italy's most successful wartime bomber, the S.79 was also the most produced, with around 1370 built between 1936 and early 1944. Initially developed by Savoia-Marchetti as a transport aircraft it had evolved into a dedicated medium bomber by the time the S.79-I made its combat debut with the Aviazione Legionaria in the Spanish Civil War in 1936. The manufacturer then produced the S.79-II torpedo-bomber, fitted with 1000 hp Piaggio or Fiat radial engines in place of the original 780 hp Alfa Romeos. Entering service in 1939, the S.79-II saw much action over the next four years, particularly in its intended torpedo-bomber role against the Royal Navy in the Mediterranean. Indeed, the Sparviero crews tasked with targeting Allied shipping became national heroes in Italy thanks to their exploits, with men such as Buscaglia, Graziani, Erasi, Faggioni, Di Bella, Aichner and Cimicchi being as revered as fighter aces in other countries. Following Italy's surrender in September 1943, a large number of S.79s continued to see action against the Allies with the pro-German RSI, although they suffered heavy losses. This is the first of two proposed volumes on the S.79, the second book detailing its use as a bomber and transport.
Feel Free to contact me for book requests, informations or feedbacks.
Without You And Your Support We Can't Continue
Thanks For Buying Premium From My Links For Support