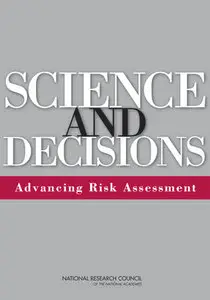 Science and Decisions: Advancing Risk Assessment
Committee on Improving Risk Analysis Approaches; National Research Council
NAS Press | 2009 | ISBN: 0309120470 0309120462 9780309120470 9780309120463 | 423 pages | PDF | 7 MB
This volume is dedicated to risk assessment - a dominant public policy tool for making choices, based on limited resources, to protect public health and the environment. Science and Decisions makes practical scientific and technical recommendations.
It has been instrumental to the mission of federal agencies in evaluating public health concerns, informing regulatory and technological decisions, prioritizing research needs and funding, and in developing approaches for cost-benefit analysis.
Despite advances in the field, risk assessment faces a number of significant challenges including lengthy delays in making complex decisions; lack of data leading to significant uncertainty in risk assessments; and many chemicals in the marketplace that have not been evaluated and emerging agents requiring assessment.
Contents
SUMMARY
1 INTRODUCTION
Background
Challenges
Traditional and Emerging Views of the Roles of Risk Assessment
Technical Impediments to Risk Assessment
Improving Risk Analysis
The National Research Council Committee
Organization of the Report
2 EVOLUTION AND USE OF RISK ASSESSMENT IN THE ENVIRONMENTAL PROTECTION AGENCY: CURRENT PRACTICE AND FUTURE PROSPECTS
Overview
Statutory Plan and Regulatory Structure
The Pivotal Role of the Red Book
Current Concepts and Practices
Institutional Arrangements for Managing the Process
Extramural Influences and Participants
Conclusions and Recommendations
References
3 THE DESIGN OF RISK ASSESSMENTS
Risk Assessment As a Design Challenge
Design Considerations: Objectives, Constraints, and Tradeoffs
Environmental Protection Agency's Current Guidance Related to Risk-Assessment Design
Incorporating Valuc-of-Information Principles in Formative and Iterative Design
4 UNCERTAINTY AND VARIABILITY: THE RECURRING AND RECALCITRANT ELEMENTS OF RISK ASSESSMENT
Introduction to the Issues and Terminology
Uncertainty in Risk Assessment
Variability and Vulnerability in Risk Assessment
Uncertainty and Variability in Specific Components of Risk Assessment
Principles for Addressing Uncertainty and Variability
Recommendations
5 TOWARD A UNIFIED APPROACH TO DOSE-RESPONSE ASSESSMENT
The Need for an Improved Dosc-Rcsponsc Framework
A Unified Framework and Approach for Dosc-Rcsponsc Assessment
Case Studies and Possible Modeling Approaches
Implementation
6 SELECTION AND USE OF DEFAULTS
Current Environmental Protection Agency Policy on Defaults
The Environmental Protection Agency's System of Defaults
Complications Introduced by Use of Defaults
Enhancements of the Environmental Protection Agency's Default Approach
Performing Multiple Risk Characterizations for Alternative Models
Conclusions and Recommendations
References
7 IMPLEMENTING CUMULATIVE RISK ASSESSMENT
Introduction and Definitions
History of Cumulative Risk Assessment
Approaches to Cumulative Risk Assessment
Key Concerns and Proposed Modifications
8 IMPROVING THE UTILITY OF RISK ASSESSMENT
Beyond the Red Book
A Decision-Making Framework that Maximizes the Utility of Risk Assessment
The Framework: An Overview
Additional Improvements Offered by the Framework
Potential Concerns Raised by the Framework
Conclusions and Recommendations
9 TOWARD IMPROVED RISK-BASED DECISION-MAKING
Transition to the Framework for Risk-Based Decision-Making
Institutional Processes
Leadership and Management
APPENDIXES
A: BIOGRAPHIC INFORMATION ON THE COMMITTEE ON IMPROVING RISK ANALYSIS APPROACHES USED BY THE ENVIRONMENTAL PROTECTION AGENCY
B: STATEMENT OF TASK OF THE COMMITTEE ON IMPROVING RISK ANALYSIS APPROACHES USED BY THE ENVIRONMENTAL PROTECTION AGENCY
C: TIMELINE OF SELECTED ENVIRONMENTAL PROTECTION AGENCY RISK-ASSESSMENT ACTIVITIES
D: ENVIRONMENTAL PROTECTION AGENCY RESPONSE TO RECOMMENDATIONS FROM SELECTED NRC REPORTS: POLICY, ACTIVITY, AND PRACTICE
E: ENVIRONMENTAL PROTECTION AGENCY PROGRAM AND REGION RESPONSES TO QUESTIONS FROM THE COMMITTEE
F: CASE STUDIES OF THE FRAMEWORK FOR RISK-BASED DECISION-MAKING
with TOC BookMarkLinks