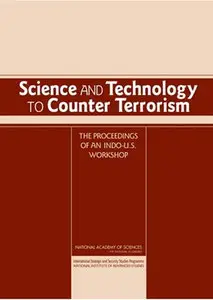 Science and Technology to Counter Terrorism: Proceedings of an Indo-U.S. Workshop
The National Academies and the National Institute for Advanced Studies
NAS Press | 2007 | ISBN: 0309669510 0309104998 9780309669511 9780309104999 | 181 pages | PDF | 1 MB
Experts examined the terrorist threat faced in both countries and elsewhere in the world, and explored opportunities for the U.S. and India to work together. Bringing together scientists and experts with common scientific and technical backgrounds from different cultures provided a unique opportunity to explore possible means of preventing or mitigating future terrorist attacks.
This volume presents the papers and summarizes the discussions of a workshop held in Goa, India, in January 2004, organized by the Indian National Institute of Advanced Science (NIAS) and the U.S. Committee on International Security and Arms Control (CISAC).
Contents
SURVEY OF TERRORIST THREATS IN THE UNITED STATES
AND INDIA AND RELEVANT SCIENCE AND TECHNOLOGY
1 Science, Technology, and Countering Terrorism: The Search for a Sustainable Strategy
2 Terrorist Threats in India
3 Discussion of Terrorist Threats in the United States and India and Relevant Science and Technology
INFORMATION TECHNOLOGY AND COMMUNICATIONS SECURITY
4 Information Technology and Communications Security in India
5 Cyberterrorism and Security Measures
6 Discussion of Information Technology and Communications Security
PROTECTING NUCLEAR-ENERGY FACILITIES
7 Threats to Civil Nuclear-energy Facilities
8 Threats to Nuclear Facilities: Framing the Problem
9 Discussion of Protecting Nuclear-energy Facilities
TERRORIST THREATS TO INFRASTRUCTURE AND RELEVANT SCIENCE AND TECHNOLOGY RESPONSES
10 Local Realities of Terrorist Threats
11 Securing Against Infrastructure Terrorism
12 Discussion of Terrorist Threats to Infrastructure and Relevant Science and Technology Responses
BIOLOGICAL AND AGRICULTURE TERRORIST THREATS
13 India and Agricultural Bioterrorism
14 Twentieth-century Legacy: The Biological Threats to Twenty-first Century Science and Society
15 Discussion of Biology and Agriculture Terrorist Threats
INDO-U.S. COOPERATION
16 Why Should India and the United States Cooperate?
17 Can Science and Technology Help to Counter Terrorism?
18 Discussion of Indo-U.S. Cooperation
APPENDIXES
A Science and Technology to Counter Terrorism: An Indo-U.S. Workshop Agenda
B Science and Technology to Counter Terrorism: An Indo-U.S. Workshop
List of Participants
with TOC BookMarkLinks