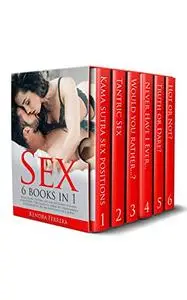 Sex: 6 Books in 1 - Kama Sutra, Tantric Sex and Sex Games (4 games collection). The Complete Guide to Unimaginable Pleasure with 50+ Sex Positions for Couples by Kendra Ferrera
English | November 7, 2020 | ISBN: N/A | ASIN: B08MZ6QFJ4 | 499 pages | EPUB | 0.41 Mb
Are you searching for a little of that "Extra Fun" in the bedroom?Do you want to discover new ways of experiencing sex and love?
How about getting into some new Sex Positions for Couples directly from Kama Sutra and the ancient art of Tantric Sex, mixing all of this with some sexy games?
. . . You're welcome!
This is the Most Complete Sex Guide around, with 6 Manuscripts in 1 Book:
Kama Sutra Sex Positions
Tantric Sex Positions
Sex Games for Couples (4 books collection!)
With this book you can make yourself a favour and learn everything and anything you want and need to know about how to
bring your sex life to the next level.
You will discover:
Sex Positions for Couples, Kama Sutra Techniques, Tantric Sex Practices and the funniest Sex Games.
The right approach to all of these (and how not to mess up)
Last, but not least, how to be comfortable in bed and make your partner feel loved
In
"Kama Sutra Sex Positions"
you will :
get to learn ways of heightening desire
up your game with the lover of your dreams
know the kind of lover you are
Learn how to prepare your mind and body for sex
Get knowledge of menstrual sex, foreplay skills and…
30+ Sex positions!
With
"Tantric Sex"
you will discover:
A thorough run down of all the basics you need to know to get started with this timeless sexual practice.
An explanation of all the known therapeutic benefits of engaging in tantric sex.
A detailed explanation of all the penetrations and positions you can use to improve your sex life.
Techniques to prepare yourself for a tantric sex session.
The truth about orgasms and how to make them even better.
How to overcome insecurities in the bedroom.
The tantric approach to contraceptives.
In the end, if you're someone who loves to laugh and enjoy your bed-time adventures, here are four (4!)
hot and intimate games
to
discover your partner's hottest wishes and forbidden desires
. These "Sex Games for Couples
"
are the best choice. No matter if you're on a road trip with friends, a romantic getaway with your lover, or a house party with a naughty group, these are the ideal party games.
Would you rather..?
Truth or dare?
Never have I ever…
Hot or Not?
Uncover secrets, debate the finer points, and most of all, get a little bit dirty.Do yourself, your partner and everyone else that you will potentially have sex with a favor, read this book! Give your partner the present of informing yourself about how to bring them enjoyment like never before.
Feel Free to contact me for book requests, informations or feedbacks.
Without You And Your Support We Can't Continue
Thanks For Buying Premium From My Links For Support