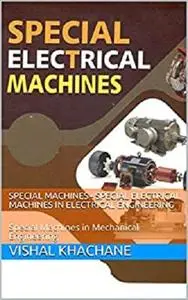 Special Machines - Special Electrical Machines in Electrical Engineering: Special Machines in Mechanical Engineering by Vishal Khachane
English | 2021 | ISBN: N/A | ASIN: B091TNTW4C | 52 pages | EPUB | 0.20 Mb
This book covers the complete syllabi prescribed for undergraduate courses in electrical, electronics, mechanical and instrumentation engineering offered by various Indian universities.
The objective of this text is to provide thorough knowledge in the emerging field of special electrical machines. It discusses the stepper motor, switched reluctance motor, permanent magnet de and ac motors, brushless dc motors, single phase special electric motors, servomotors, linear electric machines and permanent magnet axial flux machines.
Key Features
• Chapter on permanent magnet axial flux machines (not available in other Indian authors' books)
• Numerous worked-out examples
• Based on classroom tested materials
• Simplified mathematical analysis
Following Points Present in This Book :-
Introduction
➣ Stepper Motors
➣ Types of Stepper Motors
➣ Variable Reluctance Stepper
Motors
➣ Multi-stack VR Stepper Motor
➣ Permanent-Magnet Stepping
Motor
➣ Hybrid Stepper Motor
➣ Summary of Stepper Motors
➣ Permanent-Magnet DC Motor
➣ Low-inertia DC Motors
➣ Shell-type Low-intertia DC Mo-
tor
➣ Printed-circuit (Disc) DC Motor
➣ Permanent-Magnet Synchro-
nous Motors
➣ Synchros
➣ Types of Synchros
➣ Applications of Synchros
➣ Control Differential Transmitter
➣ Control Differential Receiver
➣ Switched Reluctance Motor
➣ Comparison between VR Step-
per Motor and SR Motor
➣ The Resolver
➣ Servomotors
➣ DC Servomotors
➣ AC Servomotors
Feel Free to contact me for book requests, informations or feedbacks.
Without You And Your Support We Can't Continue
Thanks For Buying Premium From My Links For Support