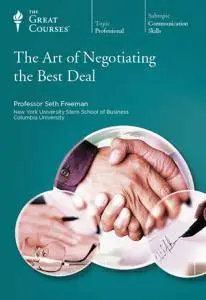 The Art of Negotiating the Best Deal
DVDRips | MP4/AVC, ~2000 kb/s | 640x360 | Duration: 12:57:19 | English: AAC, 128 kb/s (2 ch) | + PDF Book
Size: 10.6 GB | Genre: Psychology
Practically everything we do in life involves negotiation. Many important issues—the political future of nations, the scope of business, the purchase of a house—hinge on negotiation. But negotiation is also an integral part of our everyday lives, whether you are resolving a quarrel, creating a family budget, or simply deciding where to eat lunch. Yet it's easy to believe we're usually at a disadvantage—that others are born negotiators, while we are not.
Nothing could be further from the truth. Negotiation is a skill that just about everyone can learn to do well. Some people enjoy it. Others do not. But everyone can cultivate it and learn how to handle common challenges such as these:
Salary negotiations: Few situations are as awkward as salary negotiations when you're being offered a new job. The employer has the upper hand, but there are reasonable steps you can take to ensure that you are treated fairly and get the going rate for your position.
Sharp tactics: Aggressive negotiators are often not as sharp as they seem, since many rely on standard tricks that are easy to spot—if you know what to look for. Be alert for nibbling, limited authority, and double-talk tactics, among other gambits, and know how to counter them.
Haggling: Haggling is what many people hate about negotiation. But it's possible to turn a win/lose confrontation into a mutually satisfying agreement by focusing on the interests of the two sides, which can be complementary.
Good negotiating goes beyond succeeding in the marketplace; these skills are crucial for solving conflicts of all types, getting fractious groups to work together, counseling friends in distress, persuading people to give to a charity, and generally getting anyone to accept your point of view—and they enable you to do it in ways that enhance rather than strain relationships.
Wouldn't a course that equips you with such valuable knowledge pay for itself many times over?
The Art of Negotiating the Best Deal is exactly that course, taught by an expert negotiator, mediator, business school teacher, and former corporate attorney: Seth Freeman, an adjunct professor at New York University Stern School of Business and at Columbia University. In 24 engaging and practical lectures, Professor Freeman teaches you how to approach all phases of a negotiation and deal with a wide range of problems. You'll learn how to negotiate effectively in both competitive and collaborative situations, always being "hard on the problem and soft on the person"—which is the key to achieving a mutually beneficial outcome.
Lectures:
01 The Hopeful Power of Negotiation
02 The Other Negotiator
03 The Art of Skilled Listening
04 Knowledge Is Power
05 Negotiating Creatively
06 Credibility and Rapport
07 Can You Negotiate When Trust Is Low?
08 Building Leverage
09 Basics of Distributive Negotiation
10 Distributive Negotiation—Twists and Turns
11 Measuring Success and Walking Away
12 Creative, Distributive, or Both?
13 Hidden Factors That Shape Negotiation
14 The Power of Preparation—"I FORESAW IT"
15 Handling Sharp Tactics and Ethical Issues
16 Using Persuasion Tools and Winning Buy-In
17 Managing Emotions and Psychological Traps
18 Negotiating with Godzilla and the Devil
19 Cross-Cultural Negotiation
20 Negotiating with Children
21 Negotiating Work and the Workplace
22 Healing the Troubled Deal
23 Why the Trust Problem Is Fundamental
24 Confrontation, Love, and Negotiation
Welcome to the best eLearning video (English, German, French, Spanish language) and many more:
LINK
Do not forget to check my blog! Updated regularly! Add in bookmarks my blog :)
PM me if Links not working!
No mirrors pls!