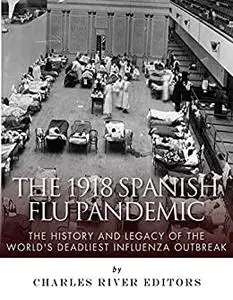 The 1918 Spanish Flu Pandemic: The History and Legacy of the World's Deadliest Influenza Outbreak by Charles River Editors
English | October 10, 2014 | ISBN: 1502778882 | 60 pages | EPUB | 1.50 Mb
*Includes pictures
*Includes accounts of the pandemic from doctors and survivors
*Includes a bibliography for further reading
"One of the startling features of the pandemic was its sudden flaring up and its equally sudden decline, reminding one of a flame consuming highly combustible material, which died down as soon as the supply of the material was exhausted. There is every reason to believe that, within a few weeks of its onset, the infection was universally present in the nose and throat of the people, disseminated by mouth spray given off on talking by innumerable carriers and, in addition, by the coughing and sneezing of the sick. Susceptibility was very general, though it varied greatly in degree. Among those who escaped well marked sickness there are few who could not recall having had an occluded or running nose, or a raw feeling in the throat, or a cough, or aches and pains, at some time during the period of the prevalence of the disease, these probably representing the price such persons paid for their immunization." - Dr. Bernard Fantus
In many ways, it is hard for modern people living in First World countries to conceive of a pandemic sweeping around the world and killing millions of people, and it is even harder to believe that something as common as influenza could cause such widespread illness and death. Although the flu still takes hundreds of lives each year, most of those lost are very young or old or ill with something else that had already weakened them. In fact, most people contract influenza at least once, and many suffer from the flu several times in their lives and survive it with a minimum amount of medical attention.
In 1918, the world was still in the throes of the Great War, the deadliest conflict in human history at that point, but while World War I would be a catastrophic war surpassed only by World War II, an unprecedented influenza outbreak that same year inflicted casualties that would make both wars pale in comparison. An illness, or more likely a collection of illnesses, Spanish influenza quickly spread across the world and may have killed upwards of 100 million people, decimating populations across developed nations and possibly wiping out as much as 5% of the world's population. If anything, the ongoing war and the censorship maintained by the countries fighting it may have resulted in the actual toll of the outbreak being underestimated based on the way soldiers' deaths were categorized.
World War I may have distracted people about the unprecedented nature of the outbreak, but the most alarming aspect of the outbreak in 1918 was the indiscriminate nature in which the scourge attacked young and old, healthy and unhealthy, and rich and poor alike. In fact, the popular name for the outbreak was a reference to the fact that Spain's own king was stricken with the disease. While he and President Woodrow Wilson ended up surviving it, former First Lady Rose Cleveland did not.
The staggering number of fatalities, and the way in which seemingly anybody could suffer during the outbreak, taught people in the early 20th century that regardless of the tremendous strides made by technology, and no matter how stalemated the war was, nobody was safe from nature itself. Of course, it also demonstrated how much more work could be done to prevent similar occurrences. The 1918 pandemic was neither the first nor the last outbreak of the flu, but it was by far the worst, and it forever changed the face of medicine and public health care in both North America and Europe.
The 1918 Spanish Flu Pandemic: The History and Legacy of the World's Deadliest Outbreak chronicles the devastating disease and the damage it wrought across the globe. Along with pictures and a bibliography, you will learn about the 1918 flu outbreak like never before, in no time at all.
Feel Free to contact me for book requests, informations or feedbacks.
Without You And Your Support We Can't Continue
Thanks For Buying Premium From My Links For Support