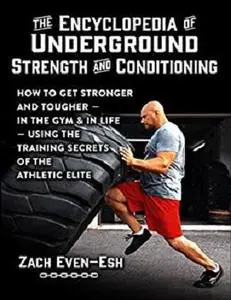 The Encyclopedia of Underground Strength and Conditioning: How to Get Stronger and Tougher–In the Gym and in Life–Using the Training Secrets of the Athletic Elite by Zach Even-Esh
ISBN: 0938045628 | 586 pages | EPUB | August 29, 2014 | English | 15 Mb
Some of the world's toughest—and most successful—men have endorsed Zach Even-Esh's Encyclopedia of Underground Strength and Conditioning as a must-have, go-to resource for developing the supreme athletic durability, multi-functional strength and spiritual fortitude they most prize…Men like JOE DE SENA, founder of The Spartan Race, the warrior-athlete CDR MARK DIVINE, founder of SEALFIT, and revered strength coach and powerlifting world champion MARTY GALLAGHER.
The inspirational life lessons shared in this book along with these training methods are what make this book powerful and timeless. If there's a hardcore, super-functional tool or tactic for maximizing strength, speed or muscle, it's here—bodyweight, kettlebells, barbells, tires, ropes, sandbags, kegs and sleds. The bodyweight section alone is worth more than the price of the book—it's a 'must read' for calisthenics fans.
No book combines the old-school methods of strength training and muscle-building with the new science of performance enhancement and athletic conditioning better than The Encyclopedia of Underground Strength and Conditioning. And no author delivers his knowledge with more heart and passion than Zach Even-Esh.
This 'bible of strength' is an inspiring must-read for every athlete, coach and fitness enthusiast of any age who wants to help themselves or others get an edge on the competition and become bigger, stronger, faster and tougher.
Zach Even-Esh has filled his book with the kind of wisdom that can only be obtained from years in the trenches making mistakes and learning from them. Zach outlines techniques and tactics to build not only useable strength, but well-rounded athleticism that enhances performance and provides resilience from injury. The ultimate report card for a coach is results, not knowledge of theory. Zach gets results for real people.
•Become the Total Athletic Package, with a farm boy's all-around power and a gladiator's whipcord resilience…
•Develop the mental toughness, durability and spiritual fortitude that would do a hardened Spec Ops proud…
•Develop the steely, never-ever-quit endurance capacity of a true champion…
•Become fully prepped to overcome the rigors and uncertainties of your combat-sport—or whatever else gets thrown at you…
•Combine the horsepower of a Ferrari with the grinding strength of a tow truck…
•Get stacked with righteous cords of "GO! GO! GO!" hyper-powerful, hyper-functional muscle…
•Make relentless progress in your physical prowess—without sacrificing your health…
•Develop a tigrish self-confidence that guarantees you NEVER surrender to any set back or apparent obstacle…
You CAN have all of this—and a whole lot more—because master-athletic coach Zach Even-Esh, has already delivered on these promises to literally thousands of real-world athletes over the last 25 years…
Zach has spent over 25 years figuring out what REALLY works in the REAL world to be utterly devastating athletically. And he is ready to share ALL of this hard-won know-how with you…
Zach's sole mission in life is to pass on to the world what truly does work to produce an EFFECTIVELY strong and powerful human being.
Punch a ticket to ride with Zach—and enter the exalted territory of the "Soul Athlete"…
"Soul Athletes" see the whole world as their physical-transformation playground. Doesn't matter where you are—you work with what you got…trees, sand, tires, sledgehammers, kettlebells, barbells, ropes, trucks, sandbags, ocean, kegs, stones, sleds, bodyweight, free weights, training partners, playgrounds, scaffolding, park benches…whatever you can lift, pull, grind, push, run with, jump over, grab…
The soul athlete engages with his total environment with deep passion, for the love of it, for the blissful pain of it—and for the shear unadulterated FUN of it…the keys to the kingdom are right here for your taking…
Feel Free to contact me for book requests, informations or feedbacks.
Without You And Your Support We Can't Continue
Thanks For Buying Premium From My Links For Support