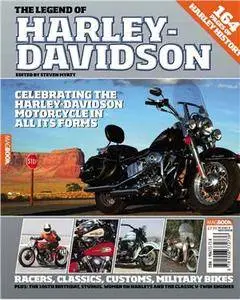 The Legend of Harley Davidson
Dennis Publishing | 2009 | ISBN: 190637273X | English | 164 Pages | PDF | 39.35 MB
Contents:
The Harley Davidson Timeline
From the earliest days of the Twentieth century right up today; here's what was happening in the Slates, in the broader motorcycling world, and - of course - with Milwaukee's finest.
Sturgisc the Party Never Ends
The annual bike fest in The Black Hills of Dakota has seen some of the motorcycling world's greatest parties since the mid Thirties. Yep. it's time to fire up and head for Sturgis.
Harleys at War
Harley got into making bikes for the military early in its life, and in both World Wars their machines played an important role in the hands of many foreign services, as well as the American Army.
A Proud Une-Up: The Very Greatest Harley Engines
Who has made the most beautiful motorcycle engines since an internal combustion engine was first dropped into a bicycle frame? Hmmm. could just be Harley. We take a look at the finest
Racing the Black, White and Orange
Competition on (and off) the track isn't the very first thing that comes to mind when you think of Harley-Davidsons, but there's a long and glorious heritage in H-D racing, as we show.
The Big 105: The Greatest Party Before the Next One
No question, this is the biggest and best round up of Harley's 105th anniversary celebrations! All this and Bruce Springsteen too. Man, you should have been there, you really should.
Babes N- harleys
No. not a montage of topless shots; a thoughtful and fascinating feature on how women and Harleys are regarded and a look at some of the female pioneers of motorcycling.
Custom Harleys
We couldn't have ignored custom Harleys, now could we? And we've gone for the very latest machines - the broadest imaginable range of styles and concepts, from sewn different builders. A truly inspirational set of individuals.
The Great Big Harley Book Review
Did you know that 1,452 books have been written about Harleys? Or haw I just nude the figure up? Whatever, it's a lot. and we've sifted through everything we could find to bring you the very best.
Dim the Lights, Roll hie movie
Right, here's fighting talk: The greatest Harley movie ever made wasn't Easy Rider. It wasn't Four Weddings And A Funeral cither. You want to make an issue out of this? Step outside.
Harley's Early Rivals
This is an all Harley publication, but you only make rules like that so that you can break them. A lot of the early pioneers - the bikes that didn't make it. and the guys who created them - deserve a look in.
Evel Knievel The Last American Hero
Evel Knievel - the most famous Harley rider ever? That's debatable, but what isn't is the fact that this is the most authoritative feature on the guy that you'll ever read.
Here's a Thing You Didn't Know
105 amazing and fascinating facts about Harleys. 100% true. And if you want to dispute any of these facts, write your thoughts on a postcard and then stuff it in your back pocket and forget about it.