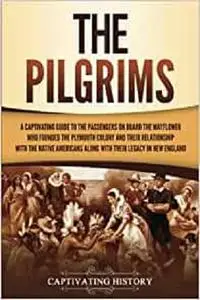 The Pilgrims: A Captivating Guide to the Passengers on Board the Mayflower Who Founded the Plymouth Colony and Their Relationship with the Native Americans along with Their Legacy in New England by Captivating History
English | June 12, 2021 | ISBN: 1637163835 | 104 pages | EPUB | 1.19 Mb
Did you know that Plymouth was named by the explorer John Smith in 1608?
Twelve years later, in 1620, the Pilgrims started their journey from Plymouth, England, and were blown off course, landing in Plymouth, North America. As if it was a sign from God, the Pilgrims decided not to continue their journey but to settle right where they landed, starting one of the earliest American communities.
This book traces the journey of the Pilgrims before the Mayflower even set sail. To understand what drove the Pilgrims into a form of self-exile, one must look further back to when King Henry VIII of England ruled. Religion was very important to the American settlers, and when they were not allowed to practice it the way they wanted, the Separatists emerged, demanding their religious rights and freedoms.
England wasn't ready to allow the Separatists the freedoms for which they asked, and they started thinking about leaving. Holland was a natural choice because it was one of the rare countries in Europe that allowed religious practice, at least in the way the Separatists saw as suitable. But even there, this religious community didn't find what they were looking for. They remained there for only a decade and decided to move once more. It was then that they realized they were Pilgrims. They were travelers in search of their holy place, a land they could call home and shape it to their needs. At that time, the American continent was being explored, and it called to all those who needed a new life, a new adventure, and new opportunities. The Pilgrims rushed to the New World only to discover it wasn't so new, as there were native cultures there who were more or less willing to share their world with strangers.
Read The Pilgrims and find out:
How did the Separatists come to be
What was their life in Leiden like
The Mayflower's journey across the ocean
How did the Pilgrims survive the first winter
How Squanto, a Native American, deserved the Pilgrims' respect and friendship
The origins of Thanksgiving
How the Native Americans accepted the settlers
How the Puritans joined the Pilgrims
What the great wars against the Native Americans were like
How religious intolerance among the early settlers almost destroyed them
And much more
Feel Free to contact me for book requests, informations or feedbacks.
Without You And Your Support We Can't Continue
Thanks For Buying Premium From My Links For Support