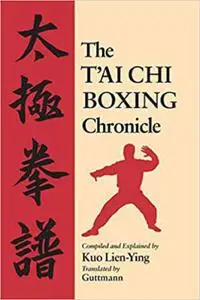 Kuo Lien-Ying - The T'ai Chi Boxing Chronicle
North Atlantic Books | 1994 | ISBN: 1556431775 | English | 149 pages | PDF | 6.41 MB
The T'ai Chi Boxing Chronicle is a translation of the text left behind by the Orthodox Masters who developed this system of boxing. Over a period of generations, fives basic movements were developed, called the Bone Marrow Washing Exercises. These exercises helped the monks restore their health and will-power. As the movements were passed down from generation to generation, the meaning behind the movements of Tai Chi was almost completely lost. Due to the integrity of Kuo Lien-Ying, this information is presented without modification or alteration. This book contains a clear explanation of the physical laws of the art of T'ai Chi that hold true wherever it is practiced. The person who studies the information contained in this book will have the tools to achieve the highest level of mastery and skill to be obtained through the practice of T'ai Chi Ch'uan.