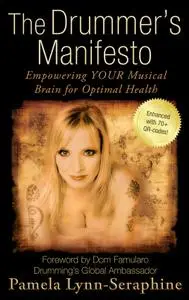 The Drummer's Manifesto: Empowering Your Musical Brain for Optimal Health by Pamela Lynn-Seraphine
English | January 27th, 2014 | ISBN: 0989629015, 0989629007 | 186 pages | EPUB | 0.71 MB
The Drummer's Manifesto invites readers to rediscover the magic of seduction by using drumming as an uplifting way to achieve optimal health, maximize brainpower, and deal with the stressors of life.
Infused with sexuality and thought-provoking theoretical concepts designed to stimulate interest in the topic and practice, Pamela Lynn-Seraphine's debut book offers a new angle to a complex problem, taking a bold, compelling, and inspirational look at something not yet looked at by other scholars in the self-help genre.
Acknowledging the fact that stress is the number one health complaint in North America, this book is the first of its kind to educate readers on how to harness the health benefits of rhythmic entrainment to reduce stress, maximize brainpower, and optimize health.
Written with the layperson in mind, The Drummer's Manifesto bridges the gap between self-improvement and brain health in an accessible format that will reach millions of stressed-out consumers. It is a timeless book that offers a simple yet effective solution for the throngs of people who suffer from the stress.
Presenting rhythmic entertainment as a radical new way of enhancing one's quality of life, Lynn-Seraphine thoughtfully and thoroughly showcases how the seductive effects of drumming produce unbelievable health benefits, with none of the boredom one might expect from a meditative practice. Drumming, she stresses, engages the body, mind, and soul, putting joy, passion, vitality, and enthusiasm for life well within the grasp of any reader.