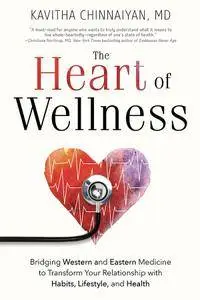 The Heart of Wellness: Bridging Western and Eastern Medicine to Transform Your Relationship with Habits, Lifestyle, and Health by Kavitha M Chinnaiyan
English | January 8th, 2018 | ASIN: B071ZD5R2D, ISBN: 0738751995 | 290 pages | EPUB | 2.02 MB
Transform your relationship with habits, lifestyle, health, and disease using Dr. Kavitha Chinnaiyan's remarkable approach to health. The Heart of Wellness shows you how to optimize the workings of the body and mind so that the bliss of your true nature can be revealed.
Presented in two parts, this book begins by exploring the nature of disease: the causative and risk factors, the role of diet, exercise, and medication, and how Eastern and Western medical practices can come together. A holistic practice is then outlined, based on the author's successful Heal Your Heart Free Your Soul program, that will guide you toward good health and better living.