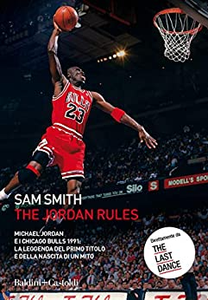 The Jordan Rules. Michael Jordan e i Chicago Bulls 1991: la leggenda del primo titolo e della nascita di un mito - Sam Smith
Italiano | 2021 | 608 Pages | ISBN: 8893883554 | EPUB | 994 KB
Ricco di aneddoti e colpi di scena, a trent'anni di distanza, il racconto della stagione che ha portato al primo storico titolo NBA e alla nascita di una vera e propria dinastia sportiva riletto oggi cambia completamente la percezione che il mondo ha maturato su Michael Jordan. Dopo essere stati sconfitti per tre anni consecutivi nei playoff dai famigerati «Bad Boys», i Detroit Pistons, i Bulls riescono finalmente a rompere la maledizione e a travolgere i Pistons nelle Finali della Eastern Conference del 1991, avviandosi alla conquista del loro primo titolo NBA. Come cronista al seguito della squadra, Sam Smith dipinge un ritratto obiettivo di MJ – ritratto che aggiunge nuovi punti di vista rispetto alla celebre docufiction The Last Dance, che d'altra parte ha abbondantemente approfittato della testimonianza di Smith – analizzandone l'incredibile spirito competitivo e la ferrea determinazione, raccontando la sua evoluzione nel corso della stagione che ne consacrerà definitivamente la popolarità e l'incredibile impatto sul mondo dello sport, non solo americano ma globale. "The Jordan Rules" racconta i rapporti tempestosi della stella dei Bulls con allenatori e compagni, le sue lotte con la dirigenza per il controllo sulla gestione della squadra, i feroci attacchi verbali al general manager Jerry Krause, gli sfoghi nei confronti di coach Phil Jackson, la sua ossessione nel volersi confermare come miglior realizzatore della NBA, e il suo rifiuto di passare la palla nei minuti cruciali delle partite importanti.