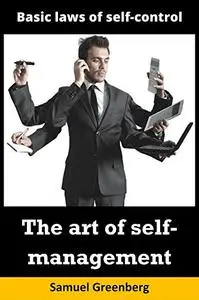 The art of self-management: Basic laws of self-control by Samuel Greenberg
English | 2019 | ISBN: N/A | ASIN: B07X41XXW9 | 125 pages | Rar (PDF, AZW3) | 0.53 Mb
Make your life successful using self-control rules
How often people complain that circumstances are stronger than them, that they cannot achieve what they want, because something is stopping them! Does this happen to you too? Well, the time has come to learn to become the master of your life, to turn your fate into a new, more successful and happy life. This book will help you: determine what the meaning of your life is; understand the essence of the events; realize your true desires; unleash your inner potential; build yourself and your life. The rules of self-control, described in the book, will help you make your life more meaningful, become a successful and happy person.
What is inside the book?
From the book, the reader learns how to develop willpower; why it is necessary to engage in introspection - and how not to fall into "self-discipline." The book acquaints the reader with the laws of the art of communicating with people and convinces of the importance of such a quality of a person as self-confidence. Learning to listen to your inner voice and trust intuition, each person will be able to discover in himself and those around him a lot of new things. And having ceased to blame himself for mistakes and having learned to use them for the benefit of himself, it will be easier for him to achieve the desired goal. After all, to become calmer and happier is possible if you stop looking back at the past and learn to appreciate the present and future.