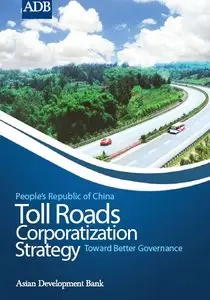 Toll Roads Corporatization Strategy: Toward Better Governance
ADB | 2008 | ISBN: 9789715617697 | 103 pages | PDF | 2 MB
This report draws on extensive review, examination, and international experience to explore five key areas that impact corporatization and privatization policy: the separation of owner and service provider functions, competition, value-for-money, contract clarity, and transparency.
A strategy of corporatization and privatization will assist the People's Republic of China finance the current $250 billion expansion of its national highway network. Corporatization and privatization will not only diversify financial resources available for toll road expansion but also improve highway efficiency and quality through commercial management.
Contents
Introduction
Background
Objectives and Focus
The Report
Highway Development Plans in the People's Republic of China
Achievements
Plans and Priorities
Financing Highway Development
The Government's Approach to Corporatization
Aims of Corporatization
Corporatization Policies
Legal Framework
Tolling Policy
Corporatization Modalities
The Case of Sichuan
Sichuan's Highway Network
Institutional Arrangements
Sichuan's Toll Road Plans and Management/Corporatization Policy
Review of Corporatization Models
Summary of Needs and Recommendations for Sichuan
Lessons from Overseas
The Overseas Experience
Alternative Approaches
Concession Design
Privatization: A Panacea?
Best Practice and Conditions for Success
Issues in Corporatization and Privatization
Off-Budget Capital Financing
Value-for-Money
Better Asset Management
Incentive and Competition
Concession Design and Selection Criteria
Concession Agreements
with TOC BookMarkLinks