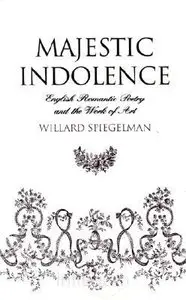 Willard Spiegelman, "Majestic Indolence: English Romantic Poetry and the Work of Art"
Publisher: Oxford University Press, USA | 1995-06-15 | ISBN 0195093569 | PDF | 240 pages | 12.36 MB
Spiegelman examines the theme of indolence– both positive and negative–as it appears in the canonical work of four Romantic poets. He argues for a renewal of interest in literary formalism, aesthetics, and the pastoral genre. Wordsworth's "wise passiveness," Coleridge's "dejection" and torpor, Shelley's pastoral dolce far niente, and Keats's "delicious…indolence" are seen as individual manifestations of a common theme.
Spiegelman argues that the trope of indolence originated in the religious, philosophical, psychological, and economic discourses from the middle ages to the late eighteenth century. In particular, the years surrounding the French revolution are marked by the rich variety of experiments conducted by these poets on this topic. Countering recent politically/ideologically motivated literary theory, Spiegelman looks, instead, at how the poems work. He argues for aesthetic appreciation and critique, which, he feels, the Romantic pastoral begs for in its celebration of nature and the sublime. The book concludes with Spiegelman following the Romantic legacy and its transformation into America (in the form of Whitman), and, further, into the twentieth century (in Frost's poems).